Spinach palak ki chaat is a mouthwatering appetizer. Spinach pakoras dipped into tamarind chutney and serve with crispy spinach leaves makes a very sophisticated h'orderves. Your friends and family will love it.
This recipe will serve 4.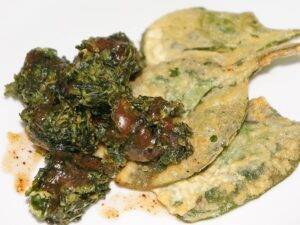 Ingredients:
Approx. 5oz spinach leaves
4 tablespoons besan, gram flour
4 tablespoons corn starch
1/2 teaspoon salt
Pinch of black pepper
Approx. 1/4 cup of water use as needed
Oil to fry
For Serving
Method
Clean and pat dry the spinach.
Keep about 10 large spinach leaves aside; chop the remaining spinach very fine, this will be about 2 cups of chopped spinach.
Next make the batter to fry the spinach leaves, mix 2 tablespoons of beasn, 2 tablespoons of corn starch, ¼ teaspoon of salt and black pepper. Add approx. 2 tablespoons of water slowly to make a batter. Note: batter should be thin in consistency but still should be able to cover the spinach for frying.
Heat the oil in a frying pan over medium high heat. Frying pan should have approx. 1inch of oil. To check if the oil is ready, put one drop of batter in the oil. The batter should come up but not change color right away.
Dip the spinach leaves in the batter one at a time and slowly drop into the frying pan. Fry the spinach until both sides are light gold. Turn them occasionally. This will take about 2 minutes. Keep aside.
In left over batter add chopped spinach, salt, corn starch and besan mix it well, this should be the consistency of soft dough, add water as needed.
Take about 1tablespoon of batter shaping in small balls drop them into the oil. Fry them until they are golden brown. This should take about 4-5 minutes. Take them out over paper towel.
Serving suggestion
Dip the small pakoras in tamarind chutney and serve them with the fried spinach leaves.
Enjoy!
Originally posted 2012-04-01 22:56:19.