Coconut Dream is a vegan delight, it is flavored with cardamom and saffron, very soothing and refreshing. Adding Agar-agar sets this dessert like jelly. It is super easy to make and taste great. I like to serve Coconut Dream chilled.
This recipe will serve 8.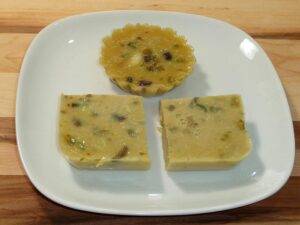 Ingredients:
1 cup coconut milk
2 cup soy milk
¾ cup sugar
2 teaspoons agar-agar powder, available in Indian and Asian grocery stores
¼ teaspoon cardamom crushed
¼ cup coconut shredded
Approx. 20 crushed pistachios
Pinch of saffron crushed
Method
Boil coconut milk, soy milk, coconut, pistachios, and sugar over medium high heat. After milk comes to boil let it boil for about 7-8 minutes, stir occasionally.
Mix agar-agar, saffron, and cardamom powder with ¼ cup of lukewarm water making sure agar-agar is dissolved.
Add the agar-agar mixture to the milk and mix it well, let it boil for 3-4 minutes. Stir occasionally otherwise agar-agar can become lumpy. Turn off the heat.
Pour it into either flat dish or molds, while it is still hot. Note: As milk mixture will cool it will start getting firm.
Refrigerate for about 2-3 hours or until set. Serve chill.
Notes
Agar-agar is a vegetarian gelatin substitute made from seaweed vegetation. This works as a stabilizing and thickening agent for many recipes like custard and pudding. As this comes to room temperature it starts solidifying. Coconut Dream can be served at room temperature as it maintains its shape. But it taste best when it is served chilled.
Originally posted 2012-05-01 12:30:09.