Carrot and Moong Dal Salad is a healthy and nutritious salad with beautiful colors. This is a great salad and easy to make. This can be served as an afternoon snack or an appetizer.
This recipe will serve 4.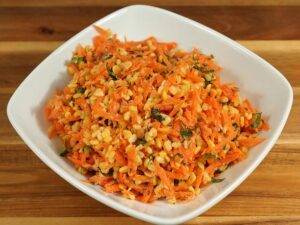 Ingredients:
1/4 cup split moong dal (washed)
2 cup shredded carrots (gajar)
2 teaspoons Oil
1/2 teaspoon cumin seeds (jeera)
¼ cup shredded coconut (gola) I am using shredded frozen coconut
2 tablespoon cilantro chopped (hara dhania)
2 tablespoons lemon juice
1 tablespoon ginger finely shredded
1 teaspoon salt
1/4 teaspoon black pepper
1/2 teaspoon sugar
 Method
Wash moong dal changing water 4-5 times, and soak it for about 2-3 hours. After soaking Moong Dal will be double in volume. Drain the water.
In a small bowl mix lemon juice, ginger, salt, black pepper and sugar to make dressing and set aside.
In a sauce pan heat the oil over medium high heat. Add the cumin seeds as seeds crack add the moong dal.
Cook for 2-3 minutes stirring continuously. Don't over cook that will make dal dry.
Turns off the heat and remove the pan, let it cool for few minutes.
Add carrots, cilantro and coconut mix it well.
Add the cilantro and dressing to the carrot and moong dal, mix it well. Let it sit for about fifteen minutes before serving.
Enjoy!