December 28th, 2012 filed under
Appetizers
,
Gluten Free
,
Snacks
,
Vegan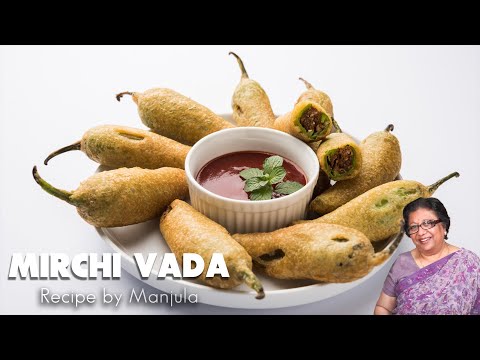 Mirchi Vada or Mirchi Bhaji is a Rajasthani popular snack. Green chili filled with spicy potatoes, dipped in batter and fried makes mouth watering snack for people who love spicy and hot food.
Recipe will make 8.
Ingredients:
8 green chillies I am using yellow chilli peppers
For Filling
1 cup potatoes boiled peeled and mashed
1/2 teaspoon salt
1/4 teaspoon cumin seeds (jeera)
1 teaspoon coriander powder (dhania)
1/4 teaspoon mango powder (amchoor)
1 tablespoon chopped cilantro (hara dhania)
1/4 teaspoon chilli powder optional (lal mirch)
For Batter
1/2 cup Besan gram flour
1/4 teaspoon salt
1/4 teaspoon cumin seeds (jeera)
1/8 tablespoon baking powder
1 tablespoon cilantro chopped (hara dhania)
Approx. ¼ cup water
Also need oil to deep fry
Method
Vertically slit the chili and remove the seeds, don't remove the stem. Set aside.
Filling
Mix all the filling together and set aside.
Making of Vada
For making the batter mix add all the dry ingredients together: Besan cumin seeds, baking powder and salt. Add the water slowly to make smooth batter. (Batter should be the consistency of pancake batter or dosa batter)
 Add cilantro and mix it well.
Stuff the chilies with potato mix.
Heat the oil in a frying pan over medium heat Frying pan should have about 1-1/2 inch of oil. To check if the oil is ready, put one drop of batter in the oil. The batter should come up but not change color right away.
Dip the filled chili in the batter one at a time making sure chili is covered with batter all around and slowly drop into the frying pan.
Turn occasionally fry the Mirchi Vada until all sides are golden brown. It should take about 4 to 5 minutes. Take the Mirchi Vadas out over paper towel.
Vadas are best when they are served hot. Serve them Hari Cilantro and Tamarind Chutney.
 Suggestion
You can prepare the Mirchi Vadas in advance and when ready to serve heat them in oven 300-degree F.
Left over make great sandwiches.
If you enjoyed the recipe for Mirchi Vada (Chili Fritter), here are more great recipes you should try from