December 7th, 2012 filed under
Gluten Free
,
Soups and Salads
,
Vegan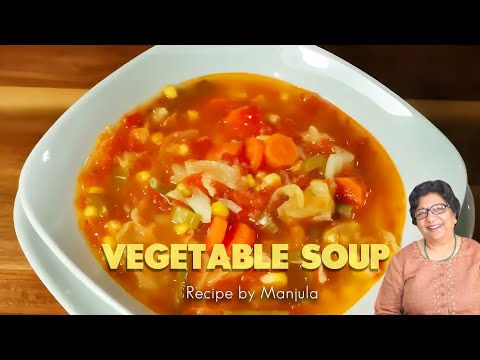 A Hearty vegetable soup is so tempting in winter months. A cup of soup is a great meal starter or a tasty, nutritious and satisfying lunch. Vegetable soup is very comforting.
Recipe will serve 4.
Ingredients:
2 tablespoons oil
1/2 teaspoon cumin seed
1 bay leaf
6 cloves (long)
1 teaspoon salt
1/2 cup carrots, peeled and chopped into rounds
1 small potato peeled and diced
1/4 cup fresh green beans cut into 3/4-inch parts
1/4 cup celery chopped
1 cup cabbage chopped
1-1/2 cup tomato chopped
1/4 cup corn kernels
3 cups of water
1/4 tea spoon ground black pepper
1 to 2 teaspoons freshly squeezed lemon juice
 Method
Heat the oil in a saucepan over medium high heat, Test the heat by adding one cumin seed to the oil; if seed cracks right away oil is ready.
 Add the cumin seeds as they crack add carrots, potatoes, green beans, bay leaf, cloves, and salt, cook, stirring occasionally, for about 2-3 minutes.
Add corn, cabbage, celery, tomato and 3 cups of water, after it comes to boil turn down the heat to low medium.
Cover and let it cook for approximately 25 to 30 minutes until the vegetables are tender.
Add the black pepper and lemon juice. Taste and season with additional salt and pepper as needed.
If you enjoyed the recipe for Vegetable Soup, here are more great recipes you should try from