May 28th, 2012 filed under
Beverages
,
Gluten Free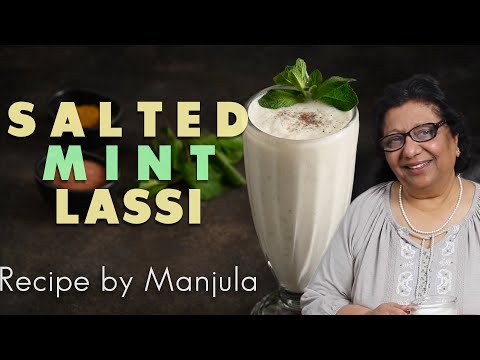 Lassi is a yogurt based healthy drink. It's very popular throughout India. Mint and ginger gives a very tangy and refreshing taste. Mint Lassi is a great compliment to any meal especially during summer.
Recipe will serve 2.
Ingredients:
2 cups of yogurt (dahi, curd)
¼ cup mint leaves (podina)
1 teaspoon ginger juice*
½ teaspoon salt
1/4 teaspoon black salt optional
1/8 teaspoon roasted cumin seed powder* (bhuna jeera)
Few mint leaves for garnishing
½ cup of ice cubes
Method
Blend mint leaves with about 2 tablespoons of yogurt making a paste. Add yogurt, ginger juice, salt, black salt and about 1 cup of water. Blend just enough to make the drink smooth; don't over bend as it will become frothy.
Pour it over ice cubes and garnish with roasted cumin seed powder and mint leave.
Lassi can be made one day in advance and refrigerated.
*Note:
Making Ginger juice: shred the ginger using fine shredder or jester and squeeze the pulp using fingers.
Roasting Cumin seeds: Toast cumin in a heavy skillet over medium heat, stirring frequently, until it is aromatic and brown in color. You can make a small jar of this in advance and keep it for couple of months. This is used in many recipes.
If you enjoyed the recipe for Salted Mint Lassi (Yogurt Drink), here are more great recipes you should try from