April 23rd, 2012 filed under
Appetizers
,
Snacks
,
Vegan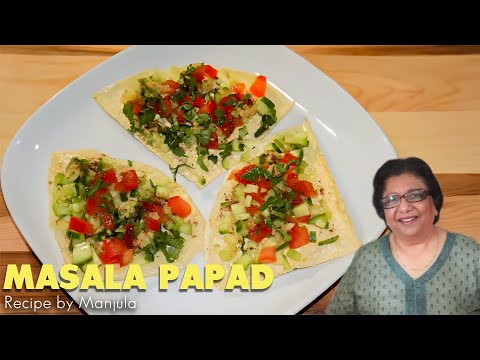 Crispy papad topped with spicy salad makes a very refreshing appetizer. Masala Papad is full of flavors and very tempting. This is a very simple and easy recipe to make.
Recipe will serve 2.
Ingredients:
2 plain papad, these are available in Indian grocery stores
2 medium size tomatoes, seeded and diced in very small pieces, this should make approx. 1cup
1/2 English cucumber, cut in very small pieces, it should be about ½ cup
2 tablespoons cilantro finely chopped
1 teaspoon ginger finely shredded, optional
1green chili finely chopped, optional
½ lemon
Approx. 2 teaspoon oil
Spice Mix for Garnishing
1/2 teaspoon salt
1/4 teaspoon black salt
1/2 teaspoon dry roasted cumin seeds powder
1/8 teaspoon black pepper
Pinch red chili
Method
Mix all the dry ingredients to make a spice mix, set aside.
First lightly oil the papads from both sides, set aside.
Preheat the skillet over medium high heat.
Roast the papad over the heated skillet from both sides pressing with spatula. Papad will change the color to light yellow and have few golden brown spots (don't overcook the papads), fold the papad in four making in triangle right over the skillet.
Remove from skillet and break the papad on the folds making them in four triangles.
Take one piece of papad and top it with cucumber, tomato, ginger, green chili, and cilantro.
Drizzle with lemon juice and sprinkle the spice mix.
Notes
Removing the seeds from tomatoes, keep the papad crunchy.
English cucumber has more crispness and skin of the cucumber is tender.
You can do all the preparation for masala papad in advance and the toppings should be added just before serving.
If you enjoyed the recipe for Masala Papad (Papad Salad), here are more great recipes you should try from