March 3rd, 2012 filed under
Appetizers
,
Chaat
,
Gluten Free
,
Snacks
,
Vegan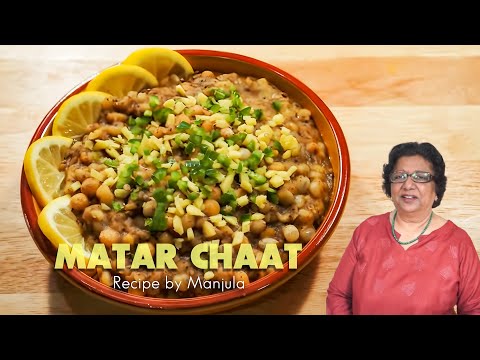 This is a delicious spicy snack. Matar Ki Chaat can be served as a snack or as a main dish with Kulcha or Naan.
Recipe will serve 4.
Ingredients:
1 cup matar, they are light brown color and look almost like chick peas, they are available in Indian grocery store
1 teaspoon salt adjust to taste
1 teaspoon black salt adjust to taste
1/4  teaspoon black pepper
1/4  teaspoon sugar
1 tablespoon cumin seed
1 tablespoon coriander
2 tablespoons ginger finely chopped
2 small green chilies finely chopped, adjust to taste
2 tablespoons tamarind pulp
1 tablespoon lemon juice
For Garnishing
Few slices of lemon
2 tablespoons ginger finely chopped
2 green chilies finely chopped
Method
Wash and soak matar in about 3 cups of water overnight. After soaking matra will be about 2 1/2 times the volume of the original.
Dry roast the cumin seeds and coriander until they are brown and start smelling, roast them separately. Let it cool and grind then powder consistency.
In pressure cooker add matar with 2-1/2 cups of water, salt, ginger and green chili cook on medium high heat.
As pressure cooker starts steaming turn the heat down to medium and cook for about 8-9 minutes.
Turn off the heat and wait until steam has stopped before opening the pressure cooker. Matar should be soft and tender.
Add all the spices; this is the time to adjust the salt and pepper to your taste. Mix it well. Add little water if they look too dry, it should have thick gravy.
Serve warm garnish with ginger and green chili and lemon slices.