February 22nd, 2012 filed under
Chutneys / Pickles
,
Gluten Free
,
Vegan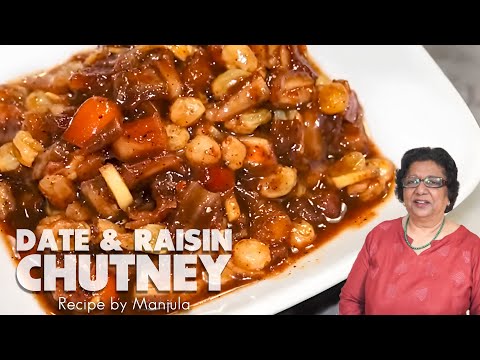 Date and Raisin chutney! This exotic sweet and sour chutney is mildly spiced, this will compliment any meal. This is an easy and quick recipe to make.
This recipe will serve 6.
Ingredients:
1 cup pitted dates
1/4 cup raisins
2 tablespoons tamarind pulp
1/4 cup brown sugar
1/4 inch Ginger sliced
1/2 teaspoon salt adjust to taste
1 teaspoon cumin seed roasted powder
1/4 teaspoon black pepper
1/4 teaspoon red chili powder adjust to taste
2 black cardamom
Approx. 3/4 cup water
Method
Soak the raisins for about half an hour.
Slice the dates in 8 pieces.
Remove the shell from cardamom and crush the seeds.
In a sauce pan add the water with tamarind, sugar, salt, black pepper, red chili powder, cumin powder, and cardamom, bring to boil and let it simmer on low heat for about 2 minutes.
Add dates, raisins, and ginger, bring to boil and turn of the heat.
Let it sit for about an hour before serving.
Chutney is served at room temperature and can be refrigerated for a month.
If you enjoyed the recipe for Date And Raisin Chutney (Khajoor and Kishmish Chutney), here are more great recipes you should try from