December 5th, 2011 filed under
Beverages
,
Gluten Free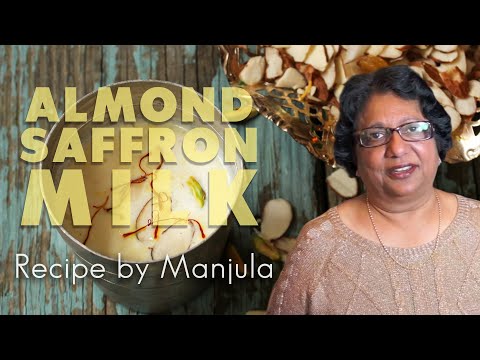 Almond saffron milk is a festive drink; this can be served hot or cold. Milk with blend of nuts and flavored with saffron. Saffron gives a beautiful orange-yellow color and distinctive flavor and aroma.
Recipe will serve 2-3.
Ingredients:
20 Oz milk
10 almonds
10 pistachios
1/4 teaspoon cardamom powder
2 tablespoons sugar adjust to taste
few strands of saffron
 For Garnishing
1 teaspoon thinly sliced pistachios
 Method
Soak the almonds and pistachios for about 10 minutes in hot water. Blanched the almonds and pistachio.
Grind the almonds and pistachios using 2-3 tablespoons of milk until smooth.
Boil the milk in a heavy bottom pan over medium high heat stirring occasionally to prevent burning.
Add the almond paste, sugar, cardamom and saffron strands. Lower the heat to low and let it simmer for 4-5minutes stirring often.
Turn of the heat, serve warm or chilled.
Garnish the milk before serving with pistachios.
Enjoy!

If you enjoyed the recipe for Almond Saffron Milk (Badam Milk), here are more great recipes you should try from