November 25th, 2011 filed under
Appetizers
,
Gluten Free
,
Snacks
,
Vegan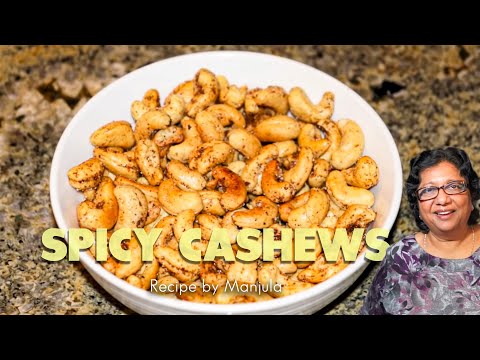 Spicy cashews are great as a holiday party snack or simply to munch on anytime. Spicy cashews can be quite addicting – they are that good. This simple and delicious recipe will make a great holiday gift too!
Ingredients:
2 cups raw cashew nuts
2 tablespoons oil
1 teaspoon salt
1/4 teaspoon black salt
1/8 teaspoon black pepper
1/4 teaspoon red pepper
1 teaspoon roasted ground cumin seeds powder
1/2 teaspoon mango powder
Method
In a large skillet, roast the cashew nuts in oil over low-medium heat, stirring continuously, until cashews are golden brown. It will take about 7-8 minutes.
Transfer the cashews in a bowl, and let them cool off until they are warm. Cashews should be warm and not be at room temperature otherwise the spices will not coat cashews.
Mix all the spices in a small bowl.
Sprinkle over the warm cashews, and toss to coat them evenly.
Store the cashews in an air tight container after they cool off to the room temperature.
Enjoy! Note: These cashews can be stored up to a month.
Variation

Simply substitute peanuts for cashews in the above recipe.

If you enjoyed the recipe for Spicy Cashews, here are more great recipes you should try from