June 29th, 2011 filed under
Dal (Lentils)
,
Gluten Free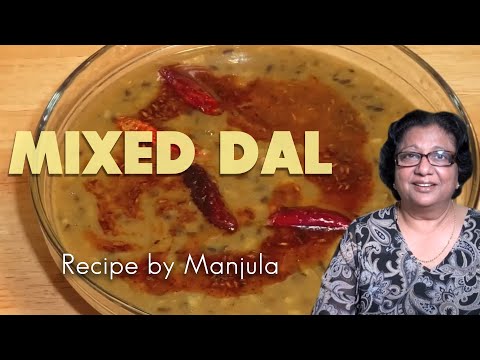 Mixed Dal is a delicious and nutritious staple in most Indian meals. Mixing different lentils gives a very interesting flavor.  For most Indian vegetarians, dal is a frequent source of protein in their diet.
Recipe will serve 3-4.
Ingredients:
1/4 cup split urad dal (with skin)
1/4 cup split-wash moong dal (without skin)
1/4 cup lentil (masoor)
1/4 cup toor dal/arhar
1/2 teaspoon turmeric (haldi)
1 tablespoon minced ginger
1-1/2 teaspoon salt
3 cups water
1/2 teaspoon garam masala, optional
1/2 teaspoon mango powder (amchoor)
Chaunk (Seasoned oil)
4 tablespoons clarified butter (ghee); or oil
1 teaspoon cumin seeds (jeera)
1/8 teaspoon asafetida (hing)
4 whole red chilies
1/2 teaspoon red chili powder
Method
Combine all dals, wash and soak in approx. 4 cups of water for at least 30 minutes.
In a pressure cooker add dal with 3 cups of water, salt, turmeric, ginger and cook on medium high heat.
As pressure cooker starts steaming, turn down the heat to medium and cook for about 7 minutes.
Turn off the heat and wait until all the steam has escaped before opening the pressure cooker. Dal should be soft and mushy.
Mix dal, if needed, add more water to adjust thickness to your liking and cook for additional 3-4 minutes on low heat. The consistency will thicken over time.
Add garam masala and amchoor powder.
Prepare Chaunk
Heat ghee in a small saucepan. Test the heat by adding one cumin seed to the oil; if it cracks immediately, the oil is ready.
Add cumin seeds and as they crack add asafetida, red chilies and red chili powder. Stir for a few seconds. To prevent the spices from burning, you may add 1 teaspoon of water. Pour spiced Chaunk over dal.
If you enjoyed the recipe for Mixed Dal (Mixed Lentils), here are more great recipes you should try from