January 5th, 2011 filed under
Appetizers
,
Snacks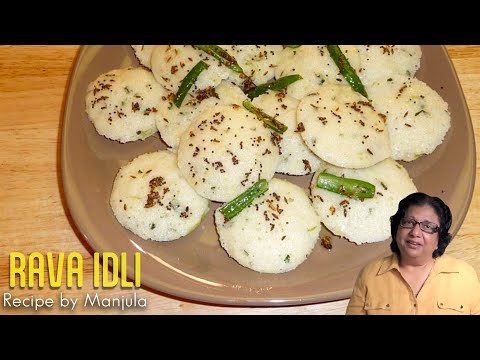 Rava Idli is a popular south Indian dish. The traditional way of making idlis would take 2 days of preparation time, however, this recipe is much quicker and easier and tastes just as great! Rava Idlis can be enjoyed as a snack or as a light meal.
Recipe makes approximately 16-20 Idlis.
Ingredients:
For the batter:
1 cup coarse semolina (moti sooji)
1 teaspoon salt adjust to taste
1 finely chopped green chili
1 teaspoon finely grated ginger
1 tablespoon chopped cilantro (hara dhania)
1/4 cup finely chopped cabbage (pata ghobi)
1/2 cup yogurt
1 cup water as needed
1 teaspoon ENO (fruit salt). Readily available in Indian grocery stores.
For the seasoning:
1 tablespoon oil
1/4 teaspoon mustard seed (rai)
1/4 teaspoon cumin seeds (jeera)
2 green chilies sliced lengthwise and cut in half.
Utensils for Steaming Idlis:
Idli stand – this has 3 to 4 plates stacked over each other. For this recipe I am using the rack that makes 16 Idlis.
Pot with a lid that is large enough to hold the Idli stand.
Alternatively, an egg poacher can work just as well, if you do not have an Idli stand.
Method
Mix semolina, salt, green chili, ginger, cilantro, cabbage, yogurt and water (as needed) to make a pancake-like batter. Set aside for at least 30 minutes. The batter becomes thicker as the semolina absorbs the water. At this point, you can add a little more water if it is too thick.
Add approximately ¾ cup of water to the pot and check to make sure that the water does not touch the bottom plate of the Idli stand. Bring to boil.
Lightly grease Idli plates with oil.
Add ENO Fruit Salt to the batter and mix well. The mixture will begin foaming. Immediately begin pouring into the Idli trays and place it into the steaming pot.
Cover the pot and steam Idlis for 10-12 minutes on medium heat.
Insert a toothpick in the center of one Idli. If the toothpick comes out clean, then you are ready to remove the stand from the pot. Be careful to not overcook the Idlis as they will lose their softness and become too dry as they cool off.
Let cool for just a few minutes before removing each individual Idli. They should come out easily and not stick to the mould. The Idlis should be spongy and soft.
For The Seasoning
Heat oil in a saucepan. Add mustard and cumin seeds and as they begin to crack, add the chilies. Stir for a few seconds and remove from the heat.
Pour the seasoning over the Idlis on the serving plate.
Tips
You can replace the cabbage with shredded zucchini or carrots.
This recipe will make slightly more than 16 Idlis, therefore if you choose to; you could make it in 2 batches. The batter can be prepared all at once; however, the ENO has to be added just prior to pouring into the Idli stand.
Serving Suggestions
Serve seasoned Idlis with coconut or cilantro chutney.
Serve Idlis with samber (south Indian vegetable soup). Idlis do not have to be seasoned.
Stir-fry Idlis in the seasoning oil mixture over medium heat for a few minutes. They will turn slightly brown.
Try this simple and delicious recipe and enjoy.

If you enjoyed the recipe for Rava Idli (Semolina Dumpling), here are more great recipes you should try from