October 17th, 2010 filed under
Appetizers
,
Chaat
,
Snacks
,
Vegan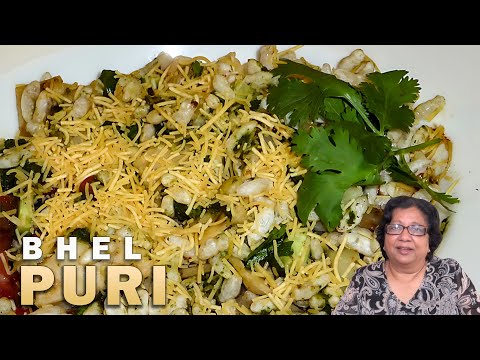 Behal Puri is a simple spicy snack with a light crunch! This is very popular with street vendors in Mumbai, Bhel puri. Every street vendor has his own twist but it doesn't matter how you make it, two main ingredients remain the same . . . puffed rice (murmura) and fine sev.
Recipe will serve 4 to 6
Ingredients
3 cups puffed rice (murmura, kurmura) available in Indian grocery stores.
1 cup fine sav (vermicelli-like snack made from gram flour) available in Indian grocery stores.
1 cup papdi broken in small pieces (recipe you can find on my web site) or available in Indian grocery stores. 
1/2 cup of chopped boiled potatoes
1/2 cup of chopped cucumber
1/2 cup of chopped tomatoes remove the seeds
About 2 tablespoons chopped cilantro
About 1/2 teaspoon salt (or to your taste)
About 4 tablespoon of hari cilantro chutney
About 4 tablespoon of tamarind chutney
1 tablespoon minced green pepper optional
For Garnish
1/4 cup fine sav
About 2 tablespoons lemon juice
Method
In frying pan over medium heat dry roast the puffed rice for 3 to 4 minutes. Let it cool of.
Combine the dry ingredients puffed rice, sav, papdi and salt together mix well. Keep aside till ready to serve.
Mix chopped potatoes, cucumber, tomatoes, cilantro and minced green pepper if like hot and keep aside.
When ready to serve mix dry ingredients and potato mix.
Add cilantro and tamarind chutneys to your taste making sure chutneys should coat the Bhel Puri.
Garnish with sav and drizzle the lemon juice to taste.
serve immediately,
Tips
Puffed rice (murmura) with time looses some of the crispness  by roasting crispness and freshness is back.
If you enjoyed the recipe for Bhel Puri Chat(Spicy Crunchy Snack), here are more great recipes you should try from