May 4th, 2009 filed under
Sandwiches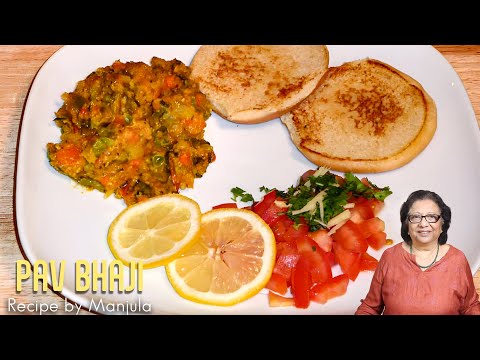 Pav Bhaji is a favorite fast food dish in India. Pav is buns and bhaji is the mixed spicy vegetables. This is a very popular dish with roadside vendors.
Recipe will serve 4
Ingredients
2 medium potatoes, peeled and diced
1 cups chopped cauliflower
1/2 cup chopped green beans
1/2 cup peas
1/2 cup chopped carrots
3 tablespoons oil
3 tablespoons butter
2 green chilies chopped
2 tablespoon finely sliced ginger
3 medium chopped tomatoes
1/2 teaspoon red chili
1/2 teaspoon turmeric
1 tablespoon fennel seed powder (saunf)
2 teaspoon salt (adjust to taste)
1 teaspoon garam masala
1 tablespoon lemon juice (adjust to taste)
1/4 cup chopped cilantro (hara dhania)
6  bread buns
For Garnish:
1 medium chopped tomatoes
Few pieces of thinly sliced lemon
Method
Boil all the vegetables potatoes, cauliflower, beans, peas, and beans in about 1 ½ cup of water. Don't add too much water, just enough to cook.
After the vegetables are soft and tender, drain the excess water and mash them coarsely with a fork or potato masher.
Heat the oil in a frying pan over medium heat.
Add tomatoes, green chilies, cilantro, and ginger and sauté for 2-3 minutes until pasty.
Next add the red chili powder, fennel seed and turmeric, mix it well.
Add mashed vegetables.
Using a spatula, simultaneously mash and stir all the vegetables for 5 minutes.
Add salt and two tablespoons of ghee, stir-fry for another minute.
Add about ¼ cup of water or as needed, and let it cook for a minute.
Turn off the heat.
Add garam masala, and lemon juice, mix it well
Toast the halves bun over a skillet using butter over medium heat until buns are golden brown from both sides.
Serve toasted buns with bhaji (mixed vegetables), garnish with chopped tomatoes and sliced lemon.
Variations:
You can use almost any vegetables to make the bhaji, but keep the potato base. You can also try vegetables such as cabbage, bell pepper, and eggplant.
If you don't eat potatoes, use green bananas for the base.
For vegan replace the butter with oil.
If you enjoyed the recipe for Pav Bhaji, here are more great recipes you should try from