April 6th, 2009 filed under
Appetizers
,
Vegan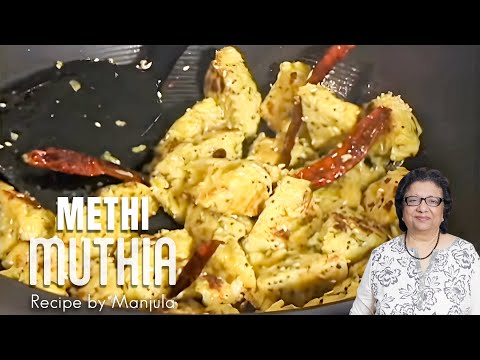 Muthias are steamed spiced dumplings, made with gram flour (besan), cabbage and spices. I have selected to make them with cabbage, but you can make muthias using zucchini (Italian squash) or Bottle gourd also known as doodhi or louki. Muthia makes a great appetizer or snack.
Recipe serves 4.
1/2 teaspoon sugar
1/8 teaspoon citric acid
4 cups very fine shredded cabbage
1 cup gram flour (basen)
2 tablespoons whole-wheat flour
2 tablespoons chopped fenugreek leaves (can be substitute with 2 tablespoons of dry fenugreek leaves or kastoori mathi) fenugreek can also be replaced with chopped cilantro (hara dhania)
2 chopped green chili (adjust to taste)
1 teaspoon cumin seed (jeera)
1/2 teaspoon turmeric
1 teaspoon salt (adjust to taste)
2 tablespoons oil
For Seasoning and Garnish:
2 tablespoons oil
1/2 teaspoon mustard seeds
1 tablespoon sesame seeds (til)
4 whole red chili
2 tablespoon chopped cilantro (hara dhania)
Method:
Combine gram flour, whole-wheat flour, fenugreek, cumin seed, turmeric, green chili, sugar, citric acid, oil, and salt in a bowl.
Add the cabbage to the flour mixture and mix well. Mixture should be like a very soft dough.
Divide the mixture with greased fingers into about 14 pieces and drop them on steamer slowly and steam them covered for 18 to 20 minutes. Check them if muthias are ready put a knife through and it should come out clean.
Let the muthias cool off and then slice them in two pieces.
For seasoning heat the oil in frying pan on medium high. Add mustard seeds after they crack add sesame seeds and red chili and stir-fry for few seconds.
Add muthias and stir-fry them for three  to four minutes until they are light brown.Garnish them with chopped cilantro.
Serve them hot or at room temperature.
Notes:
Make the mixture just before you are ready to stem them. Otherwise mixture leaves the water and will become very soft. If you have more then one batch hold the salt and add the salt for one batch at a time.
Muthias can be refrigerated for 3 to 4 days.
Muthias can be frozen before seasoning. When ready to serve, thaw the frozen muthias and season them.
Variation:
Cabbage can be substituted with zucchini or bottled gourd also known as doodhi, loki or ghia. Because theses vegetables have more water content, after shredding lightly squeeze them between your palms to get the excess water out before making the mixture.
Serving suggestions:
Muthias are great with cilantro chutney.
Muthias can be served just after steaming, but before seasoning, with cilantro chutney.
If you enjoyed the recipe for Muthia (Steamed Dumpling), here are more great recipes you should try from