December 16th, 2007 filed under
Gluten Free
,
Miscellaneous
,
Vegan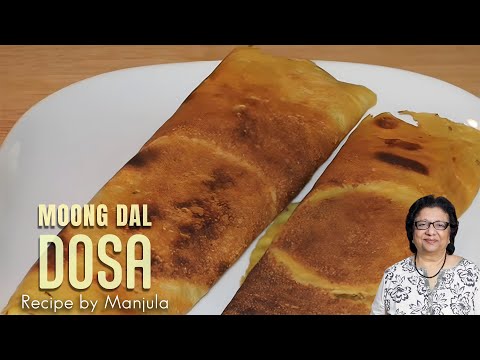 Dosas are thin and crispy pancakes, made with a variety of batters. Moong dal dosas are a great substitute for the traditional dosas found in many South Indian restaurants. Moong dal dosas are faster and easier to prepare. Dosas are also known as "cheela" or "puda".
Makes 6 dosas.
Ingredients:
1 cup washed moong dal
1 green chili chopped
1/4 inch piece ginger chopped
1/2 teaspoon cumin seeds (jeera)
1/2 teaspoon salt
6 tablespoons of oil
Method:
Wash the dal in water several times, until the water appears clear.
Soak dal in 4 cups of water for at least four hours.
Drain the water. Blend dal, green chilly and ginger together and make a smooth batter. While blending, add two to three tablespoons of water. Note: The batter blends smoother with less water.
Mix the salt and cumin seeds in the batter. Add water as needed. The total water added will be about a half cup. Batter consistency should be like pancake batter.
Use a non-stick flat skillet and place the heat on medium-high. You can check if the skillet is ready by putting a few drops of water on it. If the water sizzles right away, the skillet is ready.
Next pour about 1/2 cup of batter over center of the skillet and spread evenly with the back of a spoon. Starting from the center, spiral outwards until it is evenly spread, about 7inches in diameter.
When batter start drying , put 1 teaspoon of oil and spread over gently using a flat spatula. Wait about 30 seconds flip dosa with a spatula, just as you would a pancake.
Let the other side of the dosa cook for about one minute, or until golden-brown in color.
Serving suggestion:

Serve the dosa folded with dry aloo subhji or you can fold with your favorite cheese. You can also serve with any chutney (i.e. coconut or cilantro chutney) or with yogurt.

If you enjoyed the recipe for Moong Dal Dosa, here are more great recipes you should try from