April 1st, 2007 filed under
Appetizers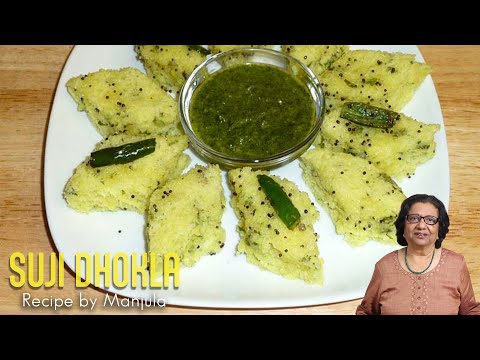 Dhokla is a traditional Gujarati snack. Dhokla makes a great appetizer.
Makes about 20 pieces.
Ingredients:
1 cup sooji (semolina flour)
1 cup yogurt
1/4 cup water as needed
1/4 teaspoon salt
2 teaspoon lemon juice
Pinch of turmeric (haldi)
1 green chili finely chopped
2 tablespoon fine chopped cilantro (hara dhania)
1 teaspoon Eno's fruit salt (Sodium Bicarbonate and Citric Acid)
For seasoning:
2 tablespoons of oil
1/2 teaspoon black mustard seed
2 green peppers chopped into about 1/4 inch pieces
Utensils to steam Dhokla:
Large sausepan with cover
Round cake-cooling rack
Round 9″ cake pan
Method:
Mix the sooji, yogurt, salt, lemon juice, green chili, and cilantro together in a bowl and make a smooth batter; add more water if needed.
Mix well so that no lumps are formed and the batter is of pouring consistency.
Allow batter to rest for an hour.
Grease the cake pan and set aside.
In the saucepan heat about one cup of water on medium high heat. Water should just touch the cake rack. This will be used to steam the dhoklas.
After water is boiling, turn down the heat to medium.
Add fruit salt (Eno) to the batter, and mix well. The batter will foam up.
Quickly pour batter into a greased cake pan.
Next place cake pan into the saucepan over the cake rack.
Cover the saucepan. Steam for about 10 minutes on medium heat.
Check Dhokla with a knife. If the knife comes out clean, dhokla is ready.
Turn of the heat and remove the cake pan from saucepan.
Let it cool to room temperature, then cut into triangle or square shapes.
Prepare the seasoning:
Heat the oil in a small pan on medium heat.
Add mustard seeds after seeds cracke add green chili stir for few seconds.
Pour seasoning over the Dhokla. Serve with green chutney.
Dhokla can be refrigerated for a few days. Before serving, heat Dhokla in a microwave or heat over steam.

If you enjoyed the recipe for Dhokla (Suji – Semolina), here are more great recipes you should try from