February 4th, 2007 filed under
Chutneys / Pickles
,
Gluten Free
,
Vegan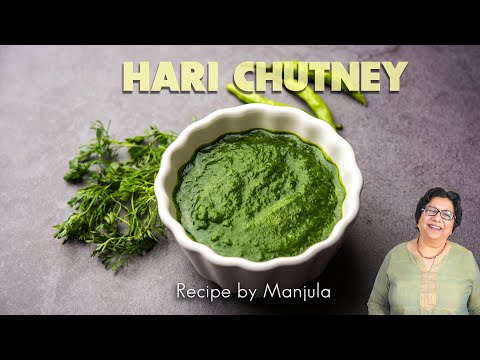 Hari (Green) chutney is made with fresh cilantro (green coriander) and a variety of spices. This chutney is a must-have for every fridge. Tastes delicious with pakoras, samosas, chaat and many more popular Indian snacks. Like ketchup and other popular condiments, hari chutney can be used in a variety of different ways!
Ingredients:
1 big bunch of chopped Cilantro (green coriander)
3 green chopped chilies
3 tablespoons of lemon juice
1/2 inch ginger
1 1/2 teaspoon salt
1 teaspoon cumin seeds
1 teaspoon oil
1 teaspoon sugar
Pinch of asafetida (hing)
Method
Blend all ingredients, except the cilantro, into a paste.
Add the cilantro, a little at a time, and blend. If needed, add 2 to 3 tablespoons of water. The water will help in blending.
Blend well and add more salt, green chilies, or lemon juice to taste.
Tips:
Using little oil and sugar help keeping the color fresh.
You can make hari chutney in large quantities in advance and freeze it in ice cube trays. When ready to serve, defrost as many cubes of hari chutney as needed. If you freeze the hari chutney immediately after preparing, the chutney will not lose its bright green color and freshness.
Variations:
Mix mint leaves with cilantro half and half (just use mint leaves no stems)
Serving Suggestions:
To make a delicious dip for  vegetables, chips, or crackers, mix 1 part chutney and 3 parts yogurt.
To make a sandwich spread, mix 1 part chutney and 2 parts cream cheese.
If you enjoyed the recipe for Hari Chutney – Cilantro Chutney, here are more great recipes you should try from